Batteries
Deep discharge protection
The deep-discharge protection integrated into TES batteries actively prevents a deep discharge of the HS-Technik Premium Li-Ion battery. The consequence of deep discharge for Li-Ion batteries is the failure of the battery.
Lots of power, little weight
With Premium Li-Ion batteries from HS-Technik, you get a lot of power with little weight under your machine. Currently, the Li-Ion batteries represent the power peak of battery technology. There is a weight savings of up to 40% as compared to Ni-MH batteries. Thanks to RFID detection, Li-Ion batteries can be charged directly on our HST-MV2 charger station. A particular advantage of this charger station is that it charges Li-Ion batteries > 95% full.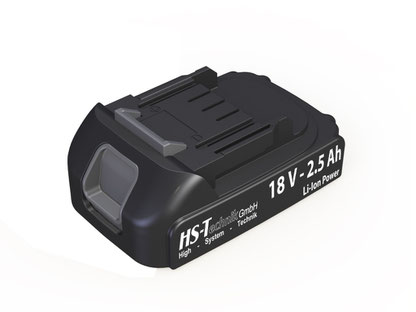 HST-PR-1825 / HST-BL-1825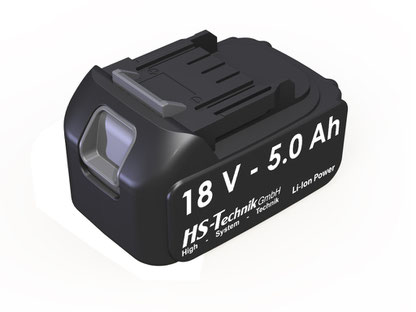 HST-PR-1850 / HST-BL-1850
HS-Technik Li-Ion batteries
| | | | | |
| --- | --- | --- | --- | --- |
| Order-no. | Voltage | Capacity | Compatible with | Weight |
HST-BL-1425

14.4 V

2.5 Ah

PROG-2 series, NutDuck, NutSnake,
other screwdrivers

300 g

HST-BL-1450

14.4 V

5.0 Ah

PROG-2 series, NutDuck, NutSnake,
other screwdrivers
500 g

HST-PR-1425

14.4 V

2.5 Ah

PROG-2 series, NutDuck, NutSnake,
other screwdrivers

300 g

HST-PR-1450

14.4 V

5.0 Ah

PROG-2 series, NutDuck, NutSnake,
other screwdrivers

500 g

HST-BL-1825

18 V

2.5 Ah

TorqBee® series, NutBee® series, PowerRiv® series, BNG-2009-2013, PROG-3 and more

350 g

HST-BL-1850

18 V

5.0 Ah

TorqBee® series, NutBee® series, PowerRiv® series, BNG-2009-2013, PROG-3 and more
600 g

HST-BL-1825

18 V

2.5 Ah

TorqBee® series, NutBee® series, PowerRiv® series, BNG-2009-2013, PROG-3 and more
350 g

HST-PR-1825

18 V

2.5 Ah

TorqBee® series, NutBee® series, PowerRiv® series, BNG-2009-2013, PROG-3 and more

350 g

HST-PR-1850

18 V

5.0 Ah

TorqBee® series, NutBee® series, PowerRiv® series, BNG-2009-2013, PROG-3 and more

600 g

HST-PR-1875

18 V

7.5 Ah

TorqBee® series, NutBee® series, PowerRiv® series, BNG-2009-2013, PROG-3 and more

850 g


Ni-MH batteries on request

Makita Li-Ion batteries
| | | | | |
| --- | --- | --- | --- | --- |
| Order-no. | Voltage | Capacity | Description | Weight |
| | | | | |
| --- | --- | --- | --- | --- |
| BL7010 | 7.2 V | 1.0 Ah | Li-Ion battery | 110 g |
| BL1013 | 10.8 V | 1.3 Ah | Li-Ion battery | 170 g |
| BL1415-RFID | 14.4 V | 1.5 Ah | Li-Ion battery with RFID recognition | 320 g |
| BL1430-RFID | 14.4 V | 3.0 Ah | Li-Ion battery with RFID recognition | 510 g |
| BL1440 | 14.4 V | 4.0 Ah | Li-Ion battery | 520 g |
| BL1815-RFID | 18 V | 1.5 Ah | Li-Ion battery with RFID recognition | 380 g |
| BL1830-RFID | 18 V | 3.0 Ah | Li-Ion battery with RFID recognition | 640 g |
| BL1840 | 18 V | 4.0 Ah | Li-Ion battery | 650 g |
| BL1850 | 18 V | 5.0 Ah | Li-Ion battery | 660 g |
Panasonic Li-Ion batteries
| | | | | |
| --- | --- | --- | --- | --- |
| Order-no. | Voltage | Capacity | Description | Weight |
EY9L10B
3.6 V


1.5 Ah

Li-Ion battery

70 g

EY9L42B

14.4 V

1.5 Ah


Li-Ion battery

470 g

EY9L44B

14.4 V

3.3 Ah

Li-Ion battery

580 g

EY9L50B

18 V

3

.3 Ah

Li-Ion battery

720 g

EY9L51B

18 V

4.2 Ah

Li-Ion battery

690 g

EY9L61B

21.6 V

3.1 Ah

Li-Ion battery

840 g

EY9L81B

28.8 V

3.1 Ah

Li-Ion battery

1,150 g