Capacity measurement systems KMS-2012
For checking Li-Ion, Ni-MH, Ni-Cd and lead batteries
Reverse polarity protection
Test boxes available for all common battery types
Conntection via 4mm sense and 2mm laboratory sockets

Final discharge voltage can be selected
Precision +/- 0.1%
Batteries up to 50.4 V are testable
Parameters can be selected at will


Current [A], Voltage [V], Time [s]

Documentation exportable via USB

Discharge voltage: 10 mA - 40 A

Production suitability test
Cost savings through reduction of the needless
battery replacement
Operation via mouse and keyboard possible*

8.4" TFT touch panel

*Mouse and keyboard are not included in scope of delivery

In production, power tool batteries are quite often sorted out as being "defective" although these batteries still possess more than 80% of their original capacity.
Previously, these batteries were often replaced untested with new batteries. The unnecessary costs and unnecessary environmental burden due to this practice are frequently neglected. Here there are test methods that pay off even after a very short time. The capacity meter KMS-2012 was developed to test the capacity of power tool batteries.
The unit was designed so that it fulfills the requirements of modern battery technology. Li-Ion batteries with voltages from 4.2 V - 50.4 V [nominal voltage
3.6 V - 43.2 V] and current up to 40 A
are testable.
With its wide measurement range, the new KMS-2012 offers the optimal solution for testing power tool batteries from all well-known manufacturers.
During a battery test, a fully-charged battery is discharged purposefully. Here the KMS-2012 simulates a consumer, e.g. a cordless screwdriver and, in parallel to this, measures the battery's capacity, power and internal resistance. The precision of the measurement of better than 0.1% with respect to the upper range value is unique.
After the measurement, the KMS-2012 automatically evaluates from the data collected whether or not the battery is still suitable for production. The limits are freely selectable.
Software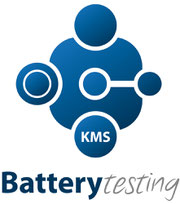 The test parameters can be set and the results of the measurement read using the 8.4" TFT touch display. It is even possible to display a graphic evaluation on the screen. Using two USB ports or one serial RS232 interface, measurement data from the KMS-2012 can be transmitted directly to a computer or saved on a USB stick. This way, it is possible to document measurement results and analyze them later.
Of course the KMS-2012 can be operated and programmed using a mouse and keyboard. Software updates are handled quickly and easily using the USB interface.
The large 4 gigabyte memory offers sufficient space to store programs for the power tool battery used in the KMS-2012 so that only the right program must be selected and the right test box connected for testing.
HST-UM2 - Switch-box for KMS-2012 - voltage range 1.2 V - 35 V
4 batteries at the same time
With the switch-box (HST-UM2) in combination with the KMS-2012 you can check up to four different batteries of different manufacturers at the same time. Also the different voltages and capacities will be detected and respective tested.

Image incl. KMS-2012
Technical data
Input

90 – 260 V AC, 50 – 60 Hz

Measurement input
0 - 50.4 V

Max. power

50.4 V / I max. 40 A,


P max. 960 Watt

Measurement range

10 mA up to 40 A

stepless adjustable

Interface

Front: 2x USB


Back: 4x USB, 2x Network,
2x serial, 1x DVI-I, 2x PS/2

Weight
18.1 kg


Dimensions

(W x H x D) in mm

445 x 240 x 370

Tested

DIN EN 60990 / EN 55022